---
AUGUST/SEPTEMBER 2023:
RADIOPHRENIA: BROADCASTS ACROSS GLASGOW ON 87.9FM

BROADCASTS ACROSS GLASGOW ON 87.9FM
24 HOURS A DAY: 21st August – 3rd September, 2023
RADIOPHRENIA is a temporary art radio station broadcasting intermittently from the Centre for Contemporary Arts in Glasgow.

The broadcast schedule includes a series of 16 newly commissioned radio works, 14 Live-to-Air performances as well as live studio shows, screenings, shorts and pre-recorded features. As in previous years the majority of the programme will be made up from selections submitted to an international open call for sound art and radio works. Radiophrenia first began broadcasting in April 2015 with subsequent editions in 2016, 2017, 2019, 2020, 2022, and 3034.



---
JULY/AUGUST 2023:
CLASS ACTIONS: RESIDENCY AT THE ETHICS CENTRE



---
JUNE 2023:
PERFORMATIVE LECTURE;


UNDERSCORING THE COMMON

S (KATOWICE POLAND)
---
JUNE-SEPTEMBER 2023:
CRITICAL PATH REGIONAL ACTION RESEARCH PROJECT

Kristina Chan; James Hazel; Sophia Ndaba
Biripi Country; Gadigal Country

Choreographer Kristina Chan asks what does it mean to work with the more-than-human forces of a collaborative project? She will build on a dialogue with James around making dance and sound that acknowledges a 'pluriversal' conception; getting beyond human-orientated ways of making the world.


---
MAY 2023:
JAMES HAZEL ANNOUNCED AS FINALIST
IN THE APRA-AMCOS PROFESSIONAL DEVELOPMENT AWARDS
(CLASSICAL/EXPERIMENTAL)
---
MARCH 2023: UNDERCLASS(AUTO)THEOLOGY NO.1 EXTENDED ESSAY
PUBLISHED IN LIQUID ARCHITECTURE'S DISCLAIMER
---
---
DECEMBER 2022:
NEW SCORE DEVELOPED FOR 'WE'VE BEEN HERE BEFORE'
BY JAMES O'HARA: SYDNEY DANCE COMPANY
---
DECEMBER 2022: SOLO EXHIBITION
GOSFORD REGIONAL GALERY
---

OCTOBER 2022:
ARTIST IN RESIDENCE (CLASS ACTIONS) CEMENTA FESTIVAL, KANDOS
RESEARCH/PUBLIC WORKSHOP PROGRAMS


---
SEPTEMBER: PACT CENTRE ARTISTS IN RESIDENCE ANNOUNCED



Congratulations to the 12 amazing emerging artists chosen for 2022-23's residencies and our new incubator, PACT LAB: Process, Play, Experiment.

Adeeb Razzouk (Space Residency)
Béatrice Barbeau-Scurla (Lab)
Charlotte Salusinszky (Lab)
Cynthia Florek (Lab)
Eliza Cooper (Residency)
Eliza Scott (Space Residency)
Em Size (Lab)
Frank Dwyer (Lab)
Jacqui O'Reilly (Lab)
James Hazel (Residency)
Katya Petetskaya (Lab)
Ryan Whitworth (Lab)



---
AUGUST 2022: '(DE)GHOSTING THE ARCHIVE; PUBLISHED BY CARRIAGEWORKS JOURNAL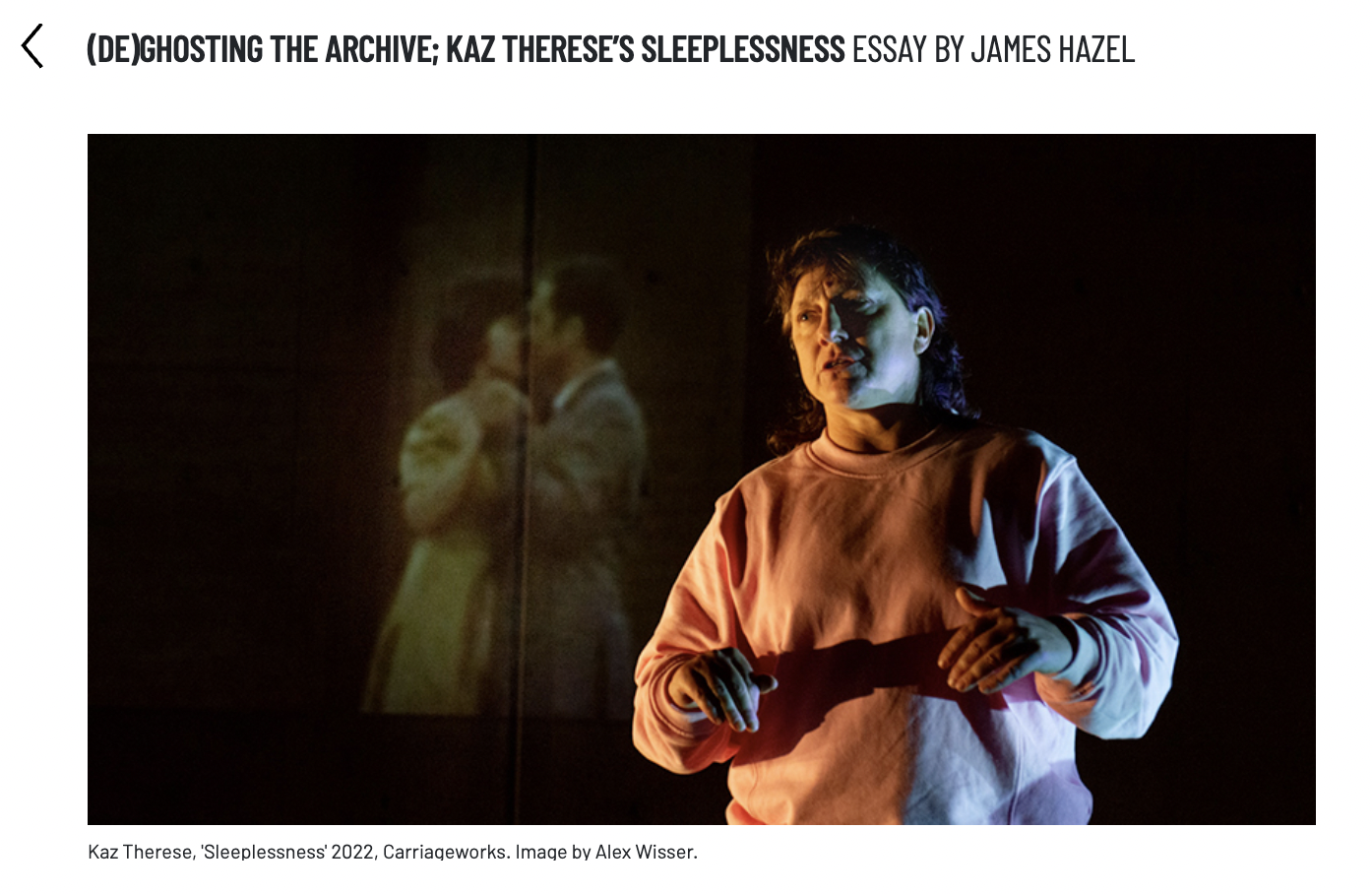 Was a privilege to write about Kaz Therese's recent show 'Sleeplessness' a few weeks ago. Thank you to Carriageworks Journal for publishing this essay."Sleeplessness invokes many such questions around what it means to inhabit a traumatised and classed body. How can theatre and institutions be reworked and rewritten for these needs? These are persistent questions that the work is attempting to address through particular (in)formal devices – a means to redetermine the very structure of theatre as an alternative to a format, which is arguably engineered for the linear, teleological European patriarchal Master-narrative, underpinned by the cultural myth of having-it-together –an inherited format we still revere all too disproportionately to other modes of knowledge production.To perform one's disrupted lineage of subalternity against the received template, as Kaz does, demands an ethical under-working of performance – potentially leading towards a prescient, bodily-led process of feeling over form. For rather than surrendering to the professional dictates or traditions of this tendency to contort one's voice, corporeality, and identity, Therese and director Anthea Williams have retrofitted drama to work for them. An approach made apparent when Kaz interludes: "[Stage Manager] Anastasia is gonna help me tell the story. They have my back. Anastasia will operate the show and when I don't want to talk about something they will sort it out for me, because sometimes, I don't know…" In both the rehearsal and opening performance, Kaz relied on Anastasia to take over the narration (with a voice recording) during the section about Mel's disappearance – a portion of the story that discloses an eerie mimesis of their grandmother Lenke's plight; a wound that will probably never resolve."
---
AUGUST: AWARDED APRA-AMCOS ART MUSIC AWARD
FOR WORK WITH ADSR ZINE
---
JULY: INSTRUMENTALISING YOUR DESIRE:
SCREENDIVE: GAUDEAMUS COMISSION



Instrumentalising Your Desire; Effective Meditations Protocol® is an audio-visual program developed via the Social Practices Association (located on the 18th Parallel of Adminicity). SPA produces 'effective meditational' instructional modules which can be adapted to calibrate the employee-affect-relations (EARS) of nearly every industry.

Developed from Director James Hazel's patented SURVEY-SCORE© technology, we turn to the realm of the sonic as a medium that can reveal employees' deeper machinic-desires, both in and out of the work-play-space. This offers an innovative solution to the previous ocular-centric, market-based approaches to management and logistics.
---
JULY: ADSR ZINE:
SPECIAL COLLECTION EXHIBITION:
SYDENHAM CONTEMPORARY GALLERY

"James Hazel and Elia Bosshard of ADSR ZINE invite you to our next archival exhibition, of works drawn out and extended from digital to material forms; a provisional library which includes texts of special value, from the personal collections our contributing artists; a space wherein we can spend long durations with those writers/thinkers that have influenced our thinking and practice. In building this library, we are interested in the ways a text might betray a sense of having been lived with and alongside;

notes / comments / folded pages / signs of wear and tear /of treasured and pleasured annotations; those intimacies and proximities that index the ways in which ideas and words never expire on the page, but permeate all facets of experiential syntax."


---

JULY: CLASS-ACTIONS COLLECTIVE
COMMUNITY WORKSHOP: CARRIAGEWORKS
As part of Kaz Therese's SLEEPLESSNESS public-program, Karen Therese, Aunty Rhonda Dixon-Grovenor, and James Hazel invite artists who have experienced involuntary poverty to participate in a workshop program. This workshop will extend the conversations around themes of SLEEPLESSNESS @carriageworks.

Info available on the Carriageworks website.

The workshop will explore our shared and lived experiences of class via labour, trauma, love and care in an era of radical change.

The workshop will be organised around a three-part collaborative approach comprising Kaz Therese's Radical Kindness method; Gadigal and Bidgigal Elder Aunty Rhonda Dixon-Grovenor's First Nations Cultural Leadership; and Composer James Hazel's pre(care)ious listening exercises.

The objective of the creative process of Class Actions is to prioritise the mental, spiritual and cultural safety of artists and participants.

CLASS ACTIONS is a collective focused on better understanding how poverty, class and identity intersect within an era of radical change/crisis - guided by

the lived experiences of the CLASS ACTION founding members (Karen Therese, Aunty Rhonda Dixon-Grovenor and James Hazel) across three generations.

Classactionscollective@gmail.com
---

JUNE: BRAND X/CITY OF SYDNEY
ADSR ZINE CREATIVE SPACE 12-MONTH RESIDENCY




We are IRL official: ADSR Zine has an office! We've taken up headquarters at the new City of Sydney Creative Space building at 119 Bathurst street.

We are on L3 of 7 floors dedicated to arts use (music, film, visual, rehearsal) and are so excited for this opportunity to be immersed in this brewing community. There's even a cafe downstairs!

Thanks @cityofsydney and @brandxinc for having us here for the next year, and for making us feel so welcome and supported. In turn it will help us to further support our zine contributors and reader

s.
---

JUNE: MONO-POLY PERFORAMCE. LIQUID ARCHITECTURE/
CRAWL SPACE RADIO



: LIVE ON AIR + ONLINE + IRL with Crawl Radio. Daytime live performances, radio-plays, spoken words, archive live recordings, meta-mix, hot bevs, hallway hauntings, and more. Join us in person for a live broadcast, performances and listening party in Composite and Padre Cafe. Free, all ages welcome.

Hosted by Debris Facility + Crawl Radio with:
ABBRA KOTLARCZYK
AMY MAY STUART
ENDER BASKAN
EGO MORTE
DAVID EGAN
JAMES HAZEL
JON TJHIA
LILITH ANGLE
LILY TAIT
META-MONO-POLY-MIXES
ROBERT MCDOUGALL
SARAH RODIGARI


---

MAY: MAITLAND REGIONAL ART GALLERY/CATAPULT DANCE
PERFORMANCE OF HUMAN REMAINS



Human Remains is a critical and playful glance at humanity in the 21st century.

In the shadows of an eminent apocalypse, Human Remains steps into the abyss of a dystopian world built on the ruins of what once was a glorious kingdom. A gentle unearthing of broken pieces from the ashes reveals beauty, grace, pain and power.

Choreographer: Omer Backley-Astrachan

Composer: James Hazel

Performers: Alexandra Ford, Nicholas Jachno, Mikayla Nangle, Remy Rochester and Sophia Van Gent
---

JUNE: RTM.FM
Live broadcast of James Hazel's: Transposing Aspiration




---

MAY 2022: Liquid Architecture's Disclaimer




---

APRIL: KONZART PROJEKT/CITY OF SYDNEY
Performance of James Hazel's intimacy ii (dependence)






---

APRIL: DANCEMAKERS COLLECTIVE/BLACKTOWN ARTS
RESURGANCE: 'GARDEN' by Kristina Chan/Score by James Hazel



The Leo Kelly Blacktown Arts Centre
Friday 6 May, 7.00 pm
Saturday 7 May, 2.00 pm and 5.00 pm

Cost:
Standard – $35
Concession – $25
*Booking fees apply

Suitable for all ages.

‍
Future Makers, Dance Makers Collective and Blacktown Arts present Resurgence.

Pressing play on movement after an uncomfortable pause, Resurgence is Future Makers' revival project. Featuring two newly commissioned works by critically acclaimed and award-winning artists Jasmin Sheppard and Kristina Chan, and a third co-devised work by the Future Makers themselves, Resurgence brings together three vital voices in an exploratory world of dance, investigating ideas and issues critical to today.

Dance Makers Collective is supported by the New South Wales Government through Create NSW and the Australian Government through the Australia Council, its arts funding and advisory body.

This project is supported by Blacktown City Council.



---

April: Brand X
Selected Artist: Petite Suite Residency
(Installation images by Tanja Bruckner)

Alex Stamell, Laneikka Denne, Nadia Zwecker & Tait De Lorenzo / Deborah Pollard / Emma Varker / James Hazel / Lucky Lartey, Shane Rozario & Lucinda Clutterbuck / Madeline Baghurst, Sabrina D'Angelo & Curly Fernandez / Melita Rowston & Benito Di Fonzo / re:group performance collective